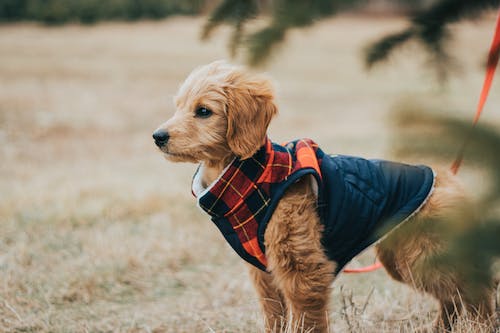 Tips To Remember When Buying Clothes & Dresses For Dogs
As a dog owner, you want to ensure that your pet is comfortable and safe from the weather. Investing in high-quality dog apparel is one method to accomplish this. However, with so many alternatives in the market, it might be difficult to pick the correct clothes for your dog.
Here Are Some Tips And Information To Help You Make The Best Choice Of Dog Clothes.
Know the right size of your dog
Taking precise measurements is the first and most crucial step in finding the correct attire for your dog. Your dog's neck, chest, and length from the base of their neck to the base of their tail must all be measured.
 Keep in mind that different manufacturers' sizing may vary somewhat, so it's always a good idea to consult the brand's size chart before making a purchase. A classic cable knit sweater for pets is the best for winters.
The iconic cable knit design of the sweater will give your dog a trendy style. For windy winter days, the fold-down roll neck of the dog sweater gives extra warmth. The ribbed knit sleeves keep the body heat intact to keep the dog warm and cozy all season long. 
Another great option for winter clothes for dogs is a multi-color carnival jacquard sweater. A sweater with a Jacquard snowflake and argyle motif and a splash of color will make your dog a center of attraction. With snowflake and pine tree motifs, it's the ideal sweater for dogs.
Go for dog sweatshirts with no threads
If your dog is having difficulty wearing winter clothes, it may be because it is difficult for them to do so. Wearing clothes should be a simple process for your pet. During the mild winter days, dog sweatshirts with hoodies are the best alternative. 
Furthermore, the dog sweatshirts must be free of any intricate thread work. It's also critical that your dog's clothes are machine washable.
The dog sweatshirts must be of breathable fabric. Most of them are manufactured from cotton and are neither too warm nor too cold for the season.
 Apart from considering the dog fashion, keep in mind their comfort as well. The front Velcro closures in the sweatshirts make it easier to put on and take off the sweatshirt. 
The hoodie protects the fur by keeping dirt out. It should have a lace that allows you to tighten and relax the hoodie to fit your dog's head. Further, look for a stitch button on the top that keeps the hoodie in place when not in use.
Consider the climate while shopping for dog outfits or dog clothes online
The climate where you live will play a big role in determining what type of clothes you should buy for your dog. If you live in a cold climate, you'll want to invest in warm dog coats or sweaters to keep your furry friend warm during the winters. On the other hand, if you live in a warmer climate, a light, breathable coat or shirt may be more appropriate.
Sleeveless dog T shirts like the Bora Bora floral printed shirt for dogs will be perfect during the hotter summer days. It will protect the dogs from the harsh sun rays and give them a cooling effect as well. Similarly, the Ruse Storm Pooper printed sleeveless T-shirt for dogs is the best dog apparel for a scorching hot summer day.
 The T-shirt is made entirely of natural cotton and is printed entirely with organic water-based inks. These fabric ingredients keep chemicals away from your pet. It also protects your pet against ticks and fleas on portions of the body protected by the fabric.
If you are searching for a dog dress or dog apparel for the autumn season, then a polyester shirt is the go-to option. It is flexible, comfortable, easy to wear and remove. The Up4pets Autumn Flower polyester shirts are designed as per the light winter season. Its vibrant colors add a splash of color while making sure to be comfortable on the dog's skin. Plus, it is waterproof in nature, further adding to its functionality.
Soft cotton T-shirts are luxury dog clothes for all seasons
Whether your pet loves being indoors or outdoors, a soft cotton tee will be the best option for dogs. They are soft, breathable, and comfortable. A Plus A pets soft cotton T-Shirts for dogs is ideal for everyday use and causes no irritation to the furry skin of the dogs.
 Furthermore, these dog and puppy clothes are easy to care for and require minimal washing hassles. Another great t-shirt option for dogs and puppies is the Ruse Desi "Bro" printed sleeveless T-shirt for dogs. 
The t-shirt is made of 100% pure cotton that has been super-combed and bio-washed for extra softness and breathability. The pet tees are made of all-natural cotton and imprinted with all organic water-based dyes to avoid chemicals triggering skin allergies in the dogs.
Dog fancy dress: Think about the functionality as well
It is critical to evaluate the purpose of dog garments before purchasing them. Will the outfits be mostly for warmth, or do you want something more fashionable? Will you be wearing the clothes for outside activities like hiking or hunting, or will you be wearing them mostly indoors? Knowing how the clothes will be used will help you make a more educated decision.
The Happy Pawz Rhombus sweater for dogs is both fashionable and functional in nature. The fabric is soft, stretchable, and ultralight. The funnel knit neck of the sweater provides additional warmth. Furthermore, the clothing will reduce dog hair scattering around. The sweater's bottom rib gives a comfortable and snug fitting with an easy pull-on style.
Style your pet the way you want!
Many people believe that dog clothes do not fulfill any actual purpose for dogs in terms of visual appeal and comfort. But it does show your pet's true personality while also providing comfort. Supertails allows you to outfit your dogs in elegance and according to their comfort requirements. Dress up your dog in style now!
Read More Articles